The Choir Director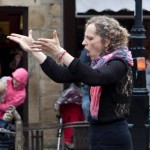 Started in October 2008, we are now led by Ailsa Nicholson, a supportive musical director who likes making music fun. Ailsa has worked as a choral director, singer and composer for over ten years.
Having graduated with a BA(Honours) in Popular Music, Ailsa has gone on to direct A Cappella Anything; Clitheroe Lights Junior Choir and Thula Mamas Harmony Singing for mums.
She teaches music in schools and composes choral works for events.
Ailsa has recently undertaken a scholarship to study music with the British Kodaly Academy and has agreed to help spearhead a new singing strategy to engage young people in Lancashire – "Sing Lancashire." She likes to explore sound and techniques, helping us to get the most from our voices and join together in song.
3VGC Singers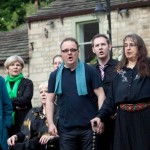 Our singers really do come from all walks of life. When talking to the choir members you will discover a wide diversity of backgrounds and reasons for being there.